This page has links to other Corney's on the web
---
All links will open in new window. That way you will still have this page open. (I know you want to keep this page open. Yes, I do know it, yep)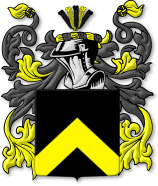 Corney Coat of Arms
(English, there is a different one for Irish Corney's)
Corney & Barrows (I wonder if I would get a discount?)
Independent Wine Merchants established in 1780
Ed is a famous bodybuilder.
Michelle is a Visual Effects Producer and has worked on "Batman Begins", two Harry Potter movies as well as others.
Graham Corney
Graham is a Solicitor, (Lawyer) in Australia. There are boatloads of Corney's in Australia. (forgive the pun)
In Ceylon, a unit of mass used for grain, = 4½ seers, about 9½ pounds. (Most Corney's weigh more than 9 1/2 pounds but all were, at one time, this weight.)
This Corney was a notorious serial killer in the 1940's
We have our own music ! Traditional Irish music. The Session: Tunes - Corney Is Coming (reel)
Corney Parish (UK)
Otherwise Cornhow, or Corno, about three miles in length, and two in breadth, contains several scattered houses and the hamlet of Middleton Place, 2½ miles N. by E. of Bootle, and four miles S.S.E. of Ravenglass. (No mention of any Corney's living there. Ok, some of you Corney's out there move to Corney Parish)
---
Here is a wicked smart Corney. (I'm glad there are at least a few!)
He is :
Chief Investigator
ARC Centre of Excellence for Quantum-Atom Optics
Department of Physics
The University of Queensland

Joel says, "I'm interested in studying the formation and dynamics of Bose-Einstein condensates (BEC) in a completely quantum-mechanical regime."
( I have a Bose Wave radio but most likely that's not what he is talking about. Heck, mine does not even have the CD in it !)

(No, I am not selling Bose radios, anyhow, back to Corney Links )
---
Dave Corney (My brother is named Dave Corney but this is not about him. Sorry, Dave!)
Dave Corney is has a great photography site. Check out his pics !)
Here is another Corney photographer.
"Able seaman. Micro light pilot. Mountain biker. Dog trainer. Builder. Father. Photographer."
Yet, another photographer.
"Jason Corney wants your Pringles lids" (Ummm, .....ok)
---
Andrew was in the 2001 Australian National's of the card game, "Magic, the Gathering"
"Round 8 Feature Match: Andrew Corney vs. Andrew Gordon" (Ouch!)
But he won here! Round 9 (I have no idea what the heck they are talking about in this article.)
---
"Gov. Phil Bredesen has named Bob Corney as his new communications director and special assistant." (Cool, good work, Bob!)
Ken is the Assisant Chief of the Ventura, California Police Department. (You all better behave, while in Ventura!)
"Assistant Chief Ken Corney commands the Operations Division, which includes Patrol, Traffic, SWAT, Special Enforcement, Gangs, Training, and Youth programs."
---
More to Corney's to come !
| | |
| --- | --- |
| Visitors Since March 2006 | Last Update: Thursday, April 06, 2006 |